First the sneak peek photo from the other day...a cinnamon broom dressed up with a sheer, sparkly fall bow, a couple of my previously blogged acorns and some copper colored wheat candle holders (and candles) from Cracker Barrel. Those were a "cabin warming" gift from my aunts and mom when they came to visit. If you like them, they changed them a bit this year, but they're still available. Instead of the leaves across them, they have copper sunflowers. They come in the set of 3 and the candles are separate, but also available. They were all 40% off when I was there a couple weeks ago ;-)
Remember the list? Not long before we left for this trip I decided I wanted a new mantle. I saw all these gorgeous mantles decorated for fall and all I had was a narrow, uneven stone mantle. Now I watch enough HGTV to have seen a hundred fireplace fixes and a new mantle is quick and easy (you do know HGTV is in Knoxville right? I SO want to work there!). Being that the cabin is sort of country, primitive, Americana - I didn't want fancy. I didn't even want it as finished as it ended up, but that's ok, I love it! So yes...a new mantle was at the top of my Honey Do list and I wanted it done ASAP so that I could decorate it for fall and actually ENJOY it while we were there.
After breakfast at Cracker Barrel on Sunday morning, we went straight to Lowe's. It's right next door.
1 10' - 1"x10" piece of pine
1 12' - 1"x4" piece of pine
a pocket hole jig
some screws
2 cans of flat black spray paint
1 can of clear spray paint
5 cup hooks
wood filler
wood plugs
Test fit
Works...
Mr. P is gettin' it done!
Built!
A few coats of black paint...
Voila! Fabulous isn't it?
The whole deal...since the new mantle cap is deeper than the old stone, I had Mr. P add 5 cup hooks on the backside of the front facing so I could hang my garlands...and the stockings of course. The black is such a HUGE help in breaking up all the "wood" tone.
The picture frame I took out of my neighbor's trash - covered with pine cones, acorns and hickory nuts. Not bad for a bunch of free stuff plus some hot glue!
And yet another Dollar Tree hurricane vase - filled with (yep, you guessed it) free pine cones, hickory nuts and acorns...plus a couple of large fall leaves (also from the Dollar Tree).
The pumpkin candle holder was a $5 Big Lots find (it's actually copper colored), plus a Trick or Treat Yankee Votive that was in my stash at home.
Those are the acorns that I posted about
HERE
Don't you LOVE that giant acorn?! $6 at TJ Maxx...
New mantle...less than $50. Gotta love it!
Just for reference...here is a before shot...before as in when we first went to look at the place before we bought it.
Joining the Paint Party at
Domestically Speaking
!
And i'll Toot my Own Horn over at Silly Little Sparrow...
And of course i'll brag over at Tools are for Women too! - I have no shame...
Transformation Thursday!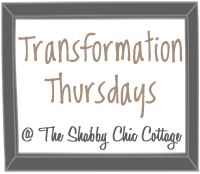 Thrifty Thursday too!