As far back as I can remember, my mom has always made the same thing for breakfast on Christmas morning. Since I have a fairly firm grasp on the English language, i'm going to go out on a limb and say that makes it a tradition.

Mom makes the infamous honey puff pancake. I guess since it's kind of a cake and it's made in a pan, that qualifies it as a pancake...frankly, I consider it more of a souffle. Call it what you will, it's easy and it is really good.

Ingredients:

1 cup milk
6 eggs
3 tablespoons honey
3 oz cream cheese
1 cup flour
1/2 teaspoon salt
1/2 teaspoon baking powder
3 tablespoons butter
powdered sugar
Directions:
Heat Oven to 400 degrees. Lightly scoop flour into a measuring cup. Level off. In blender, place milk, eggs, honey, cream cheese, flour, salt, and baking powder. Let stand while preparing skillet. Grease 10" oven proof skillet with 1 T butter. Add remaining 2 TBS of butter to skillet.
Place skillet in oven and heat until butter sizzles, about 2 minutes. While skillet is in oven, blend ingredients at a high speed for 1 minute. Scrape the sides of blender and blend at high speed for one more minute until smooth. Remove skillet from oven.
Immediately pour batter into hot skillet. Put back into oven and bake at 400 degrees for 20-25 minutes or until puffed and dark golden brown.
Serve immediately with a sprinkling of powdered sugar and fruit. Other toppings can be blueberries, peaches, or sliced bananas with maple syrup.
Mom and I both make this in an old cast iron skillet. I line mine with foil because i'm lazy and hate cleaning an iron skillet.
When the timer goes off everyone is required to run to the kitchen to see the honey puff pancake as it comes out of the oven...this would be the "puff" part...like I said, it's more like a souffle - it starts to fall as soon as you take it out of the oven. Never mind that...it still tastes fabulous! If you want to get all fancy for the holidays you can throw a paper doily on there and dust with powdered sugar and make it look like a snowflake. Let's get real though...we live in Florida. We just serve it plain and everyone adds their own toppings. Jam, jelly, powdered sugar, honey, sliced fruit, syrup...
We also have bacon and sausage, as well as fresh fruit on the table - maybe even a hashbrown casserole. Honestly, i've become a HUGE fan of "breakfast potatoes" lately. I dice up potatoes and fry them up in olive oil and a little butter. The butter makes the brown up and get crisp...(maybe it's just me, but they never come out like that if I use just the olive oil). Add a little salt and pepper and i'm good to go. If I were a fan of onions and peppers, i'd add those too. Knock yourself out if you want to add those when you make them.
Christmas morning we all drive over to mom and dad's house and we dig into our stockings. That was always the rule growing up. We could go thru the sock, but we had to be quiet and we couldn't wake mom and dad up until 7am (or maybe it was 7:30). So now that my brother and I are in our 30s...well, neither of us is up at 7:30 on a day off! And the stocking is still fair game. Mom is usually in the kitchen and has breakfast in the works. So we all open our stockings while the pancake is puffing and when it's done we all sit down to breakfast in the dining room - the table set with mom's Christmas china of course. After breakfast we gather 'round the tree and usually it's my brother who plays the part of the elf..distributing gifts as they're pulled from under the tree...or rather around the tree and eventually under.
Here are a few shots from Christmas in the past...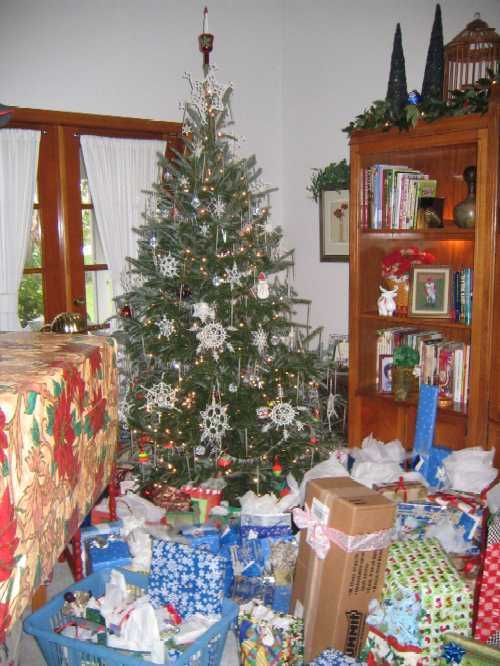 Please excuse the laundry basket - that was my transport of gifts from my house to my parents'.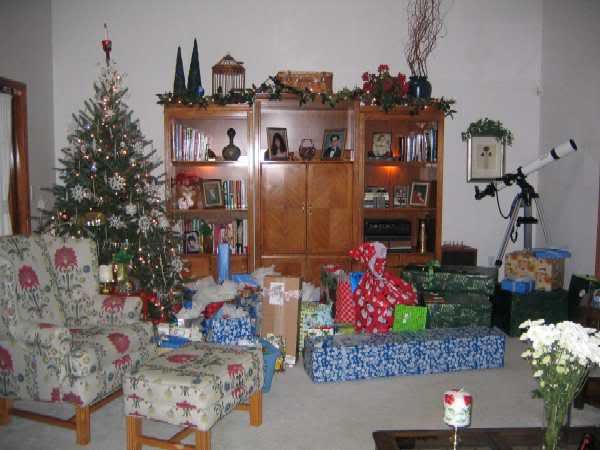 The gifts are creeping toward the hallway...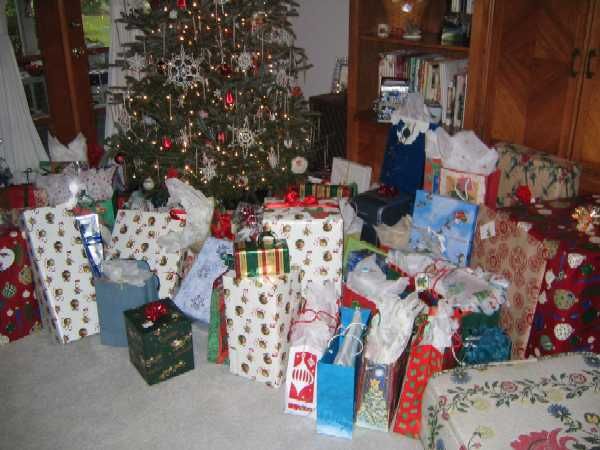 Yes...it's always this crazy...
Merry Christmas and Happy Holidays to you and yours!