I'm itchin' to decorate for fall. I'm counting the days until we get to take another trip to the cabin (and it WILL be fall there!). I'm ready to be done with temps in the 90s and the heat index being over 100.
So in the spirit...I've starting my annual hunt for decorating ideas. Here are a few that I have filed away...
Love this! I'll have to see if I can drum up an old wheelbarrow or wagon and do something like this on the front deck.
These would be pretty on the mantle...
Simple garland made from pine cones, open weave ribbon and rope.
More pine cones! This wreath could go all the way thru Christmas just by changing the ribbon - or not...if you're not stuck on traditional colors.
I wonder if I could pull this off using my old milk tin...
Love the stacked benches...I think i'm a Prim girl at heart....
See a theme?
Heavenly...
This could use some work, but it's a starting place...I do have 2 red rockers at the cabin...
LOVE the old gate and the wall pocket - I might let go of my mirrored stars over the mantle for something like this...although it would look just as good over the bench on the front deck.
Here are a few photos from years (many) past of the FL house in various stages of Fall Dress...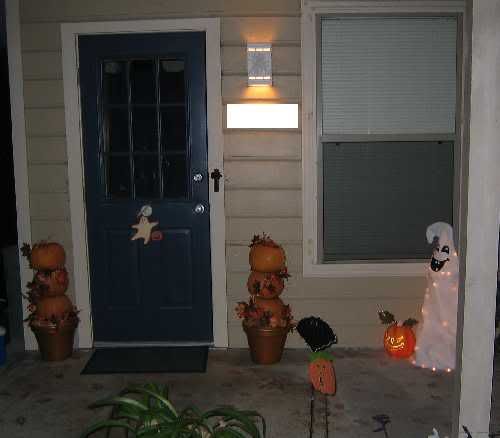 Ok this one was more Halloween - obviously. It is weird seeing my house with a blue door.
The giant wreath that used to hang in the middle of the front wall...
Obviously fall in FL since everything is still green and I have to use fake pumpkins and mums Totally not exciting...
I wish Autumn would just hurry up and get here...it's one of my most favorite things!