'm linking up with the parties over at Remodelaholic and Fireflies & Jellybeacn for this post!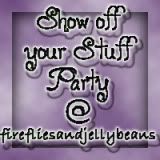 Once upon a time I had an ugly kitchen. There...I said it. When I bought the house I was 23. Suffice it to say that my remodel budget was pretty much $10. Ok, maybe a little more than that, but basically it was enough to make it livable. Old windows that wouldn't shut,

moldy

carpet, leaking roof, cheap

brown

paneling everywhere - oh and the seller did me a favor (ha) by replacing the kitchen cabinets (wood) with "really nice"

white

laminate ones...you know the ones meant for utility rooms and garages! Rock on. They went well with the faux tile wallboard backsplash (

tan

with

brown

speckles and some random ugly flowers). Oh and I can't forget the "butcher block" laminate counter top...that wasn't even fastened to the cabinet bases. Yes it was a sight to behold let me tell you!
This is the oldest photo I have in digital format right now. Pardon the mess (yikes - hey college student LOL). So as you can see - I painted the ugly paneling

white

since I couldn't afford to pull it down and drywall it all. A MILLION times better just doing that. Why

white

?
Remember the cheap cabinets? The ones that look like this?
They're
white
....
white
cabinets,
white
walls, in theory they all just blend together and I told myself that no one would notice my ugly cabinets. This was 1997. In November of 2000 I got married. For whatever reason...I STILL had an ugly kitchen!
In 2006 (really...6 more years of ugly) I said the floor had to go. It was a
white
tile pattern vinyl with

tan

grout lines. I picked it out...I did have the budget to put in new flooring...obviously it wasn't anything GOOD LOL. So we went to this...
much better don't you think?
Note that you can see the baseboard on the left and the cabinets on the right. Correct...VERY SMALL. In the more or less full kitchen view photo, the table is up against the wall and the chair is pushed in as far as it would go under the table - which left about 3.5" of walk thru space. Fabulous. Still ugly...but better with the new floor. Fast forward to spring of 2009. Yep. THREE MORE YEARS of an ugly kitchen. Married almost NINE YEARS. Explain to me why I still had an ugly kitchen?
One weekend we were visiting the in-laws up in Georgia and my father-in-law is a hobbiest wood worker. I happened to pick up a wood working magazine and the angels sang, the sun was shining - for I was about to get a kitchen facelift. Amen!
This particular magazine had an article called "30 minute cabinet doors" "HONEEEEEEY!" Soon, all would be right in my kitchen world.
We borrowed this magazine and went back home to Florida. Let the cabinet refacing begin.
In one weekend, my fabulous husband whipped up new doors for everything in the kitchen...then we tore it up!
(this is Mr. Paisley bringing in his first cabinet door to show me)
Behold my gorgeous faux butcher block and try not to be jealous. Oh and that is ALL of my cabinet space. And counter space. Note that there is no dishwasher...so to the left of the sink lives a dish drainer...I say "lives" because there's no cabinet space, so I can't put it away. Now look again and oogle my ridiculous amount of counter space. Yep...about 14" between the sink and the range and about 12" between the range and the wall. Try rolling out dough for anything there...
And then we painted....COLOR! Because I no longer had to try to hide cheap ugly cabinets. Life is good. And that lead us to...
Martha Stewart's Pumpkin Pie from Lowe's ($24). Trust me, it's not as neon

orange

as it looks in this photo.
Add a new stock faux granite laminate counter top ($80), new sink and faucet ($120), birch wood for the cabinet doors (around $80), modern stainless steel drawer pulls ($25 for all, bought in a box of 24 on ebay) and things are lookin' good!
New pub table and chairs ($200), finish bringing everything back in and rearranging a bit and I LOVE my kitchen...even though it's small.
Maybe you didn't notice...I collect

pumpkins

. I also collect vintage amberina vases. They are mainly on top of the cabinets...
Not long after these were taken, the

almond

f

ridge gave up the ghost and it was replaced with a

black

fridge. Then I scored an over the range microwave on

Black

Friday for $150 shipped (from Sears). You'd think I would take a new photo to post, but you'd be wrong today! Maybe next weekend i'll update my kitchen photos...I have added and adjusted a few things...
Better? I think so....
Here's a sneak peak at a project to come...one of my neighbor's put this out for the trash this morning and I threw it in the car on my way to work!