No - it's not time for Monster Jam here (that's in January - we go every year!)

Did I mention we have a big party for Memorial Day every year? We usually start getting ready for this party right after the first of the year so that we don't have a ton of stuff to do last minute. Well...this year we have the cabin...so we've been away a couple of times since the new year started. So I printed out calendar pages with all the weekend projects, detailed cleaning schedule, when to buy supplies, etc. It's in a nice little duo-tang folder with a clear cover. We haven't done 10% of it. This week is going to be very busy with the inside stuff as I'm still trying to clean up the drywall dust that is EVERYWHERE from the hall bathroom remodel a couple months ago. It's not easy to clean with a shop vac. I have a Dyson, but I was warned NOT to use it on drywall dust...by a friend who did and then had to spend a lot of money to get it fixed at the vacuum shop. So on that note - I'll mention that while I am a really great planner, I'm also one of the world's best procrastinators! Great combo eh? So here's our Saturday so far - I hope that you are having a fabulous weekend!


Not really "trash" I suppose, but I picked it up at Goodwill a few weeks ago for a few bucks. Love the scalloped edges and the turned base. There's a foil sticker on the bottom that says ARDCO Fine Quality Dallas Made in Japan. I didn't find a whole lot of info about them online. Lots of stuff on ebay, nothing "expensive".
Cute isn't it?
And no it's not your imagination, it is crooked.
Yep - it is in need of a little TLC. From the looks of it, it's been glued back together more than once. There is a wooden "screw" peg in the bottom of the top section where it used to screw into the base. The inside of the base is stripped - you can kinda make out some faint groove marks, but nothing for the screw to grip. No big deal! Easy to fix. Probably easier to paint in two pieces anyway! You guessed it - it's about to get a coat or two of the infamous Rust-Oleum Satin

Heirloom White

spray paint! You can bet it will make an encore appearance for

White Wednesday

at Faded Charm and we'll join Coastal Charm for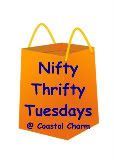 Voila - today's project can be marked complete! This will probably find a home at the cabin. I saw some cute "bowl filler" Americana patchwork balls that might look cute tossed in it.
So while I was working on this little project and doing my Friday chores (I had to work a 10 hour day yesterday so none of it got done), my wonderful husband started working on a gate.
I admit - I didn't like the idea of the gate...but now that it's mostly up, I see potential for a new flower bed! Fence panels make good backdrops.
The right side of the fence is screaming for some sort of
decoration
don't you think?
This is the South side of our cottage. That's the

veggie garden

behind the gate on the right and that's my 1965 Mustang under the car cover in the front and behind that is our 1993 Mustang GT convertible (pumpkins, amberina vases, mustangs...yep we collect those too - we have 5 right now). On the house side of the driveway, in front of the gate I have a ton of

red amaryllis

that no longer bloom because they aren't getting enough sun. Going to have to move those this year. Behind the gate on that side is a bed of mini gladiolas, some lilies and

ginger

(not the edible kind).
There's Nathan right after he proclaimed himself to be a genius. He thought he was going to have to go pick up another 2x4 because he cut one too short - then realized it was still long enough to be used for a side piece for the other gate's frame. Brilliant.
This is what he looks like when he's calculating...LOL i'm not sure why he was using his phone. He really is a genius and always does the math in his head. Unlike me, he can actually remember all the numbers.
Yep - I am married to a good ol' boy redneck country boy that happens to be a genius. You can probably tell he really doesn't have anything other than IQ in common with anyone at a MENSA convention. LOL
Almost got it done today. Tomorrow he's got to add the last two pickets there in the middle, put the latch on it and he decided to add wheels because each gate is about five feet across and heavy enough that it's causing them to dip just a little in the middle - which is of course putting strain on the hinges.
Had to have a sit (on the tailgate of course) and admire his project before calling it a night.
I love a good blog post that gets written over the course of an entire day!