Quick post that qualifies for the following parties this week!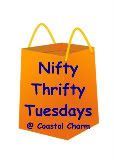 A couple of goodies I trash picked rescued Sunday evening...
The white wicker hanging lamp may find a home on the screened deck at my cabin...
Who doesn't need another frame? A quick once over with my trusty sanding sponge and a coat or two of spray paint and we're good to go!
The wicker shade even has a working light bulb.