I stopped by the

Goodwill

and I did pretty darn well I think!
I scored 3 glass candle sticks to make some more "home made" hurricanes. They were $.59 each. Even cheaper than the

Dollar Tree

!
Then I found a new package of

cork tiles

$2.99 for 4.
Then I found this awesome footed glass bowl...dish...ummm compote? I dunno what it is, but I liked it a lot. It was $2.99.
I almost missed this shabby "french" clock for $2.99 - it was mixed in with the dishes.
I also found a cheese board with cheese names on it, plus the glass dome. Woo hoo! $1.99.
AND the nice lady at the register gave me a discount because my debit card gives money back to our local pubic school system. Turns out you get a discount with your school ID...she gave it to me anyway - awesome!
Cloche in the making...now to find the right chunky wood candle stick...woo hoo! The Cheese Dome will reappear on the blog when it's made over *wink* *wink*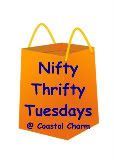 hey wait - that's my clock! LOL $34.91 on Amazon.com Awesome!
didn't save much on the cork tiles, but about a dollar...good enough!